Avalon Seafood Market
Freshest on the Island!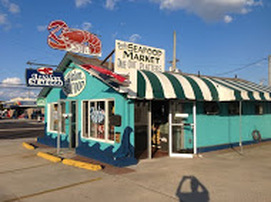 Here at Avalon Seafood we offer a wide variety of fresh fish! Every day we have fresh Flounder, Tuna, Halibut, Salmon, Grouper and Chilean Sea bass. Along with the fresh fish, we also have Live Lobster and Maryland Blue Crabs.


Need a bushel of crabs? Have a large lobster order? Just call ahead to place your order!!!


We can accommodate most specialty fish orders such as stone crab claws or larger lobsters. Please stop in and talk with Frank, Carl, or Rob for these requests.
---
---

Flounder
Grouper
Salmon
Halibit
Orange Roughy
Seabass
Ahi Tuna
Mahi Mahi
Cooked Shrimp
Raw Shrimp
Crab Fingers
Snow Crab Claws
Scallops
Jumbo Lump Crab Meat